Drop in pre-cancerous cervical changes in Australia after HPV vaccination introduced
17. 06. 2011 | Cancer Research UK
---
The number of women with precancerous cervical changes has fallen in Victoria, Australia since the introduction of human papillomavirus (HPV) vaccination programmes, a new study has found [1].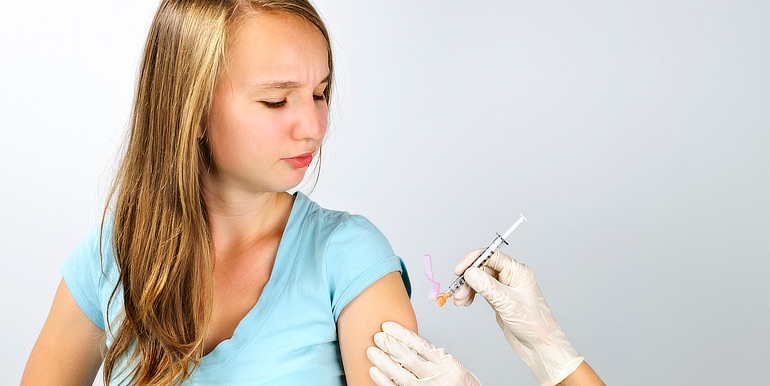 Image credit: depositphotos.com
The research, published in the Lancet medical journal, is the first to observe a reduction in high-grade cervical abnormalities - the precursors to cervical cancer - following the introduction of HPV vaccination.
But, the researchers noted that further research is needed to determine whether the decline in high-grade cervical abnormalities was actually due to vaccination.
Australia introduced a vaccination programme to protect against cancer-causing strains of HPV among 12 to 26-year-old women between 2007 and 2009.
Dr Julia Brotherton, from the Victorian Cytology Service Registries in east Melbourne, led a study which looked at trends in cervical changes in women in Victoria both before and in the three years after the introduction of routine HPV vaccination.
Analysis revealed that the incidence of high-grade cervical changes in girls aged 17 and under was 0.80 per cent before the vaccination programme, and just 0.42 per cent afterwards.
This means that the introduction of HPV vaccination was followed by an almost 50 per cent decline in the incidence of high-grade changes in that age group.
But there was no decline in low-grade cervical changes in under-18s, or in high-grade or low-grade cervical changes in older women.
The study authors wrote: "This is the first report of a decrease in incidence of high-grade cervical abnormalities within three years after the implementation of a population-wide HPV vaccination programme.
"Our finding that the decrease in HGA (high-grade abnormality) incidence occurred in the youngest vaccination cohort before it occurred in the older, catch-up cohorts (who were more likely to have been previously sexually experienced) reinforces the appropriateness of the targeting of prophylactic HPV vaccines to preadolescent girls."
Writing in an accompanying comment in the Lancet, Drs Mona Saraiya and Susan Hariri, from the US Centres for Disease Control and Prevention in Atlanta, urged caution.
They noted: "Individual-level vaccine status was not considered - as it perhaps should have been in view of the availability of such data in Victoria - and, as stated by Brotherton and colleagues, linkage between vaccination and screening registers is needed to confirm these findings independent of possible bias by screening policy or practice changes.
"Indeed, more rigorous epidemiological studies are needed - many are under way - to increase our understanding of HPV vaccine effectiveness against cervical disease."
Jessica Harris, Cancer Research UK's senior health information officer, said: "This study is the first to show a reduction in rates of abnormal cervical cells after an HPV vaccination programme started, but it doesn't provide evidence that the fall in rates was definitely down to the vaccine. Clinical trials have shown that the HPV vaccine is very effective at preventing cervical changes and cervical cancer, but these effects will probably take several years to appear in countries that have introduced vaccination programmes.
"Even if you have been vaccinated, it's still important to take up your cervical screening invitations. By diagnosing and treating any abnormal changes, screening can help prevent cervical cancer from developing in the first place."
Reference
Brotherton JM, Fridman, M, et al. Early effect of the HPV vaccination programme on cervical abnormalities in Victoria, Australia: an ecological study. The Lancet 2011. doi: 10.1016/S0140-6736(11)60551-5
Keywords: HPV vaccination, precancerous cervical lesions, cervical cancer