Nine-valent HPV vaccine may prevent nearly 90 percent of cervical cancers
01. 10. 2014 | AACR Press Release
---
Because nine human papillomavirus (HPV) subtypes were found to cause the majority of cervical precancers, a nine-valent HPV vaccine currently being investigated may be able to prevent more cervical cancers than current vaccines, according to research published in Cancer Epidemiology, Biomarkers & Prevention [1], a journal of the American Association for Cancer Research.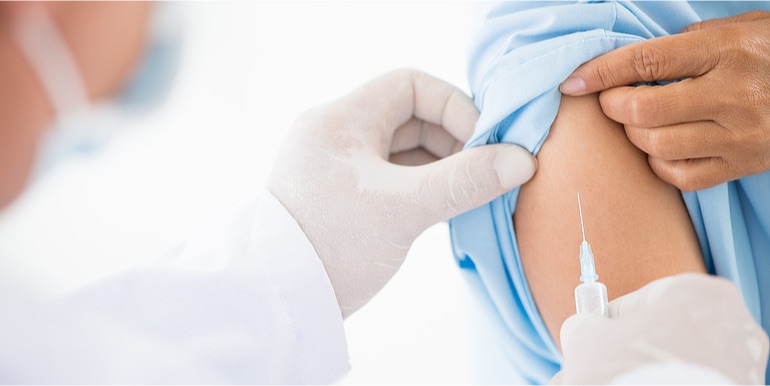 Image credit: depositphotos.com
"We wanted to study how many cervical precancers could potentially be prevented by an investigational nine-valent HPV vaccine that provides protection against the HPV types 6, 11, 16, 18, 31, 33, 45, 52, and 58," said Elmar A. Joura, MD, an associate professor of gynecology at the Medical University of Vienna in Austria. "Approximately 85 percent or more of precancerous lesions of the cervix were attributed to the nine HPV types covered in the vaccine; therefore, if nine-valent HPV vaccination programs are effectively implemented, the majority of these lesions could be prevented.
"Given the high vaccine efficacy that was observed in a large phase III clinical trial testing the nine-valent HPV vaccine, if vaccination programs with this new-generation vaccine are effectively implemented, approximately 90 percent of invasive cervical cancer cases worldwide could be prevented, in addition to the majority of precancerous lesions," Joura added.
HPV types 16 and 18 are the predominant causative factors of cervical precancers, which are referred to as CIN 1, 2, and 3 depending on the extent of abnormality. In 2011, the International Agency for Research on Cancer (IARC) expanded the carcinogens list to include HPV types 31, 33, 35, 39, 45, 51, 52, 56, 58, and 59.
"Despite the clear safety profile of the currently disseminated HPV vaccines, uptake in the United States and other resource-rich countries has been inadequate," said Joura. "To achieve the population-level potential of the HPV vaccine to reduce cancer, vaccine uptake must increase."
Joura and colleagues used data from 12,514 women, ages 15 to 45, enrolled in the placebo arms of three clinical trials testing a quadrivalent HPV vaccine. Among these women, 2,507 were diagnosed with CIN1, CIN2, CIN3, or adenocarcinoma in-situ (AIS). The researchers estimated the number of precancers harboring the HPV types included in an investigational nine-valent HPV vaccine being developed by Merck and currently under review with the U.S. Food and Drug Administration.
After adjusting for the presence of multiple HPV subtypes in a single lesion, they found that seven high-risk HPV types included in the nine-valent vaccine were present in about 55 percent of CIN 1, about 78 percent of CIN 2, about 91 percent of CIN 3, and nearly 100 percent of AIS lesions.
Of the women ages 15 to 26 who had precancers, 54 percent had a single HPV infection and 32 percent were infected with more than one HPV type. Of those ages 24 to 45 with precancers, 59 percent and 19 percent were infected with one and more than one HPV types, respectively.
Reference
Joura EA, Ault KA, et al. Attribution of 12 high-risk human papillomavirus genotypes to infection and cervical disease. Cancer Epidemiology, Biomarkers & Prevention 2014. doi: 10.1158/1055-9965.EPI-14-0410
Keywords: human papillomavirus, HPV vaccine, cervical cancer